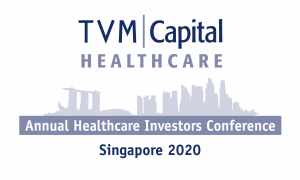 The 7th Annual TVM Capital Healthcare Investors Conference has been postponed to later this year and will NOT take place on February 12 !
Just like us you are certainly monitoring the events around the Coronavirus outbreak and with new cases, non-related to travel activities to PRC, we have decided today, February 7, 2020, to postpone the event to later this year until the outbreak is contained and large gatherings of individuals in one room will not be a reason for worry anymore. We feel we have a strong responsibility to safeguard the well -being of our attendants, speakers, partners, and team members.
We kindly ask for your understanding for this decision. We truly believe it is in the best interest of all our colleagues, friends, business partners, and investors.
This is very unfortunate as we all have put so much effort into creating a great program with an impressive speaker faculty and a fantastic attendee community. We very much hope to set this up again in a very similar format and structure, later this year.
All registered attendants and speakers will get an email with this note of postponement today. Registration has been closed.
Powered by
In cooperation with:
2020 TVM Capital Healthcare Investors Conference – Postponement Note
Date:
February
Venue:
Capella Hotel Singapore, 1 The Knolls Sentosa Island, Singapore 098297