Event brought together influential leaders and thinkers in the healthcare industry from across Southeast Asia and Europe, as well as government officials, investors, business leaders, and academics
Speakers and panelists exchanged views on strengthening public-private partnership models, role of development funds, advancing technology adoption, and investment opportunities in SEA.
Singapore – 27 September 2022: TVM Capital Healthcare, an emerging-markets focused healthcare private equity firm headquartered in Singapore and Dubai, held its inaugural TVM Healthcare Institute event on Friday, 23 September. TVM Healthcare Institute's primary mission "Access to Care" aims to bring together a "think tank" of top leaders in the industry to transform the healthcare industry through promoting continued healthcare investments, innovation, sustainability, and access to quality and affordable healthcare.
Speakers at the by invitation-only event included Pahala Nugraha Mansury, Vice Minister, Ministry of State-Owned Enterprises, Indonesia, who talked about the need to create a conducive environment for investments in healthcare.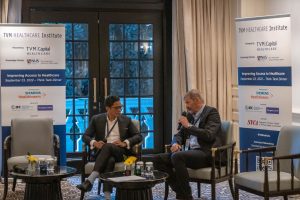 Elisabeth Staudinger, Siemens Healthineers' Managing Board Member and Head of Asia Pacific spoke about improving access to affordable healthcare and the role of technological partners such as Siemens Healthineers in bringing together early-stage investors and local entrepreneurs in creating successful business cases and market access.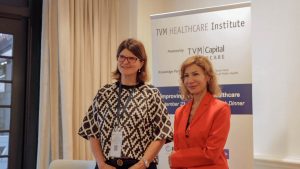 One highlight of the evening was a panel discussion, moderated by Jeremy Lim, NUS  that discussed how an ecosystem of private investors, technology partners and development funds could come together to improve access, as governments alone cannot improve access to patient-centric quality care. The panel highlighted the importance of public-private partnership in advancing solutions together, particularly in accelerating digitisation and adoption of technology solutions.  Contributing to this panel were Rana Karadsheh, Regional Industry Director, International Finance Corporation,  Aniruddha Patil, Unit Head, Health and Education investments, Asian Development Bank and Dr Cheong Wei Yang, Deputy Secretary (Technology), Ministry Of Health.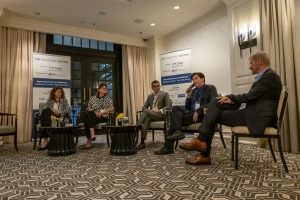 Both the German Ambassador to Singapore, Dr. Norbert Riedel, and the Ukraine Ambassador to Singapore, Kateryna Zelenko, were also present at the evening event.
Singapore was noted as a country with a blueprint for advancing access to care through digitisation backed by strong data and governance standards. Its diverse multiracial makeup of Singapore also meant that genomics data gathered from the Singapore population is reflective of the racial makeup across the Asia Pacific. This data and insights gleaned through initiatives such as the "Healthier SG" meant that projects built in Singapore can be replicated in private hospitals across Asia.
On the firms' funding model, Dr. Helmut Schuehsler, said: "There are a few key principles to healthcare investments. We look at who works – the supply of healthcare professionals, second, who pays for the healthcare services, and lastly where the patients are from and whether there is a sustainable flow. We also look hard at the regulatory framework whether there is stability and continuity in their policy making since we are making substantial investment of hundreds of millions over a long-time horizon." 
Hoda Abou-Jamra, Founding Partner of TVM Capital Healthcare and Managing Director of the firm's Southeast Asian Operations: "We are honored that our first TVM Healthcare Institute event has garnered so much interest amongst the healthcare and investment community. We believe this will be a valuable platform for years to come in bringing together business leaders, private investors, and government officials on a global basis to share ideas and provide support with their counterparts in SEA."
About TVM Healthcare Institute
The TVM Healthcare Institute is a think tank network of top executives, key influencers, and other visionaries in the healthcare industry who shape the future of this sector. TVM Healthcare Institute's primary mission is to drive the transformation of the healthcare industry towards innovation, sustainability, and increased access to quality care by keeping the cost of healthcare provision manageable. TVM Capital Healthcare founded the Institute, NUS Saw Swee School for Public Health is the Knowledge Partner of the Institute, Siemens Healthineers is a Technology Partner of the Institute. The event was sponsored by the International Finance Corporate (IFC), Morgan Lewis, and Supported by the Singapore Venture Capital Association (SVCA).